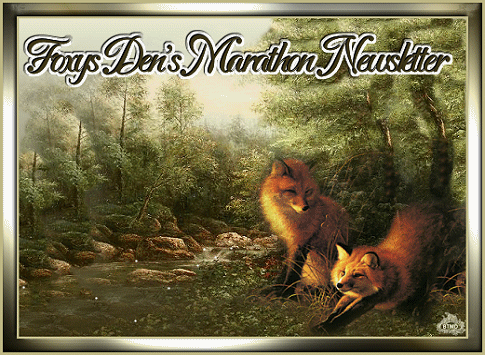 FOXYSDEN SPRING MARATHON NEWSLETTER 2013
written by Keylalah



What is a Marathon? The best definition I could come up with that did not have to do with foot racing was this, "an activity that takes a long time to complete and needs a lot of energy and determination".
This is a very good definition of what Foxysden Marathons are all about. We schedule our Marathons from Monday through Sunday night, beginning at 2pm in the afternoon and the last tour of the day beginning at 10pm.
It does take a lot of energy and determination to structure one of these events, and to see it through. Our staff had lots of determination to make this the best Marathon yet! And they succeeded!
The energy and determination of our members was quite evident in the turnout we had for this 7 day, 8 hour a day, fun filled extravaganza!
I am excited to let you all know who won what during this major event held by Foxysden League. It all started out with "Let the Marathon begin..."



First off, Cris and I would like to thank the staff for an excellent job well done! All tours went smoothly and the giving from your heart was awesome and much appreciated!
Secondly, the HAs would like to thank all the members who participated in the Spring Marathon! We had a very good turnout, many winners and lots and lots of prizes were given.
Thank you for your support!



We would like to give recognition to the following players:

For the most tour wins in the Marathon, a special CONGRATS goes out to
Judy with 13 wins!
Clara and Gill were tied with 12 wins
Connie had 9 wins
Key and Joe had 7 wins
CONGRATS TO YOU ALL!
These players were awarded a Premium Gem Item from Pogo Mall from our HA.
Thank you Cris!

For the most tours played during the Marathon, a very special CONGRATS goes out to
Clara with 55 games played!
Connie played in 52
Key played in 50
Judy played in 45
Sandy (Mrs B) played in 29
VERY GOOD LADIES, THANKS SO MUCH FOR YOUR SUPPORT!
These players were also awarded a Premium Gem Item from Cris!
Thanks Cris!



We had a few major tours we do each Marathon. The winners of these tours receive a Gem Card, a Badge Album, an Avatar for the special tour, and their name placed on the appropriate trophy on FOXYSDEN front page!!!

Let's start with the Spring Marathon Poker Championship Tour. This tour was open to all to play for the Marathon. Normally, when we have our monthly Poker Championship game, it is by invite only. The winner of this tour won a Gem Card worth 350 gems and a Badge Album! The lucky winner was
Pistol Packin' Mama a.k.a. Clara!!!
CONGRATS CLARA!!

Our next winner played in the Special Prize tour of Sci-Fi. No one knew what the surprize prize would be. The winner of this tour won a 1 Year Subscription to Pogo or had the choice of 700 Gems! The winner chose the Gems so she could go shopping!!CONGRATS goes out to
Miss Judy!!
CONGRATS JUDY!!
See, you just never know what you will win in Foxysden Tours!!!

The next Spring Marathon Special Tour I would like to tell you about is the TOC! This game was in DCR. The proud winner of a Badge Album is to be Congratulated!!
WTG Sandy (Mrs B)!!
CONGRATS SANDY!!

Our last Special Tour was our Marathon "King or Queen of Games" tour! The lucky man or woman who wins this tour receives a Gem Card and a Badge Album! For this marathon, it was played in Golf Solitaire. The lucky winner was
Clara!
CONGRATS CLARA!!




The HAs all have a special Avatar and Bux that we give to our members in surprise tours. The players usually do not know what tours these will be given out. During our Spring Marathon, Joe, the Asst CO-HA had his Big Bux Tour in Qwerty and was won by Key! She won 5000 Bux!
CONGRATS KEY!!
The CO-HA gives out an Avatar and, during this Marathon, a Badge Album of Choice was given! This Surprize was in the Mystery Tour! The lucky winner was
BMonkey!
CONGRATS MONKEY!!




We had many winners of BUX in the tours! The top winners are listed as:
Judy won 18,000 bux
Connie won 17,000 bux
Clara and Key won 11,000 bux each
Gill won 10,000 bux!
A total of 101,000 + in Bux were won throughout the Marathon!!!
CONGRATS TO YOU ALL!




Many won all kinds of badges. They were:
Connie who won 6
Clara and Key who won 5
Judy who won 3
Maiden who won 1
CONGRATS ALL!!!

Many of our players won Badge Albums. They were:
Clara won 2
Sandy
Rosy
Connie
and Monkey
CONGRATS ON YOUR WIN!!

The ones who got Gem items were:
Judy
Clara
Connie
Charlie
Karen
Key
CONGRATS!!

Mall Item Winners were:
Jim
Clara
Connie
Gill
Judy
Dawn
Monkey
Charlie
Sue
Michele
CONGRATS!!




We all had a great time in the Spring Marathon! The next Marathon will be held in August! Our 4th year of hosting - Foxysden 4th Anniversary Marathon is in October, and our last Marathon for 2013 will be in December!
This is a time for the Den family to get together, enjoy each others company, relax and have FUN!




The HAs, Cris, Joe and myself would like to thank you all again for joining us for our 2013 Spring Marathon! We hope you all enjoyed the week! Take Care, God Bless and Stay Safe!