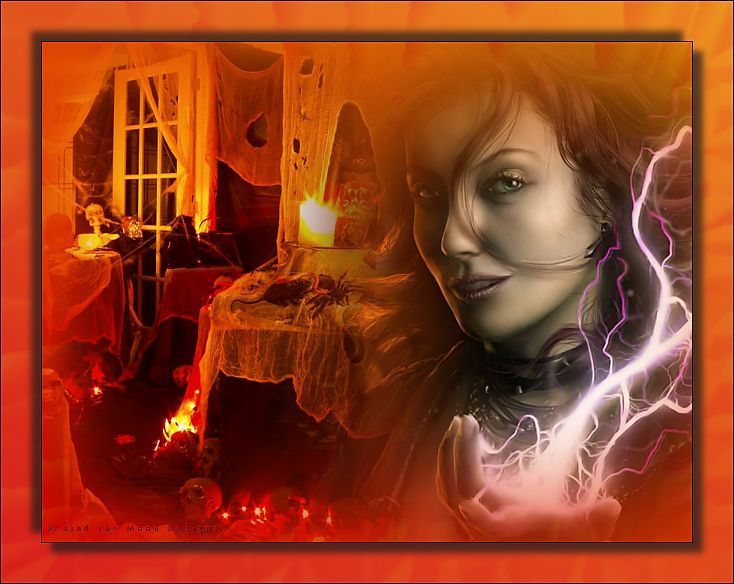 FOXYSDEN LEAGUE NEWS
SEVEN YEARS OF HOSTING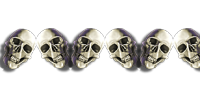 WELCOME TO FOXYSDEN NEWSLETTER FOR OCTOBER!
ENJOY THIS LETTER AND MANY MORE TO COME!
Written by Keylalah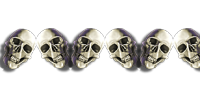 OCTOBER IS A MONTH OF GOD'S BEAUTIFUL ART WORK, SWEATER WEATHER, FOOTBALL SEASON IS IN FULL SWING, HOMECOMING DANCES, COLUMBUS DAY AND THE ANTICIPATED HALLOWEEN EXTRAVAGANZA!

CHILDREN ARE GETTING EXCITED...LOOKING FORWARD TO DRESSING UP IN THEIR FAVORITE COSTUMES AND KNOCKING ON DOORS, YELLING "TRICK OR TREAT!". THEY CAN'T WAIT TO GET HOME TO SEE WHAT ALL IS IN THEIR BAGS...EATING LOTS OF GOODIES, THEN OFF TO BED TO DREAM OF ALL THE GOBLINS AND WITCHES, GHOSTS AND PRINCESSES THEY ENCOUNTERED ALONG THE WAY.

THERE'S A GOBLIN AT MY WINDOW,
A MONSTER BY MY DOOR.
THE PUMPKIN AT MY TABLE
KEEPS ON SMILING MORE AND MORE.
THERE'S A GHOST WHO HAUNTS MY BEDROOM,
A WITCH WHOSE FACE IS GREEN.
THEY USED TO BE MY FAMILY,
TILL THEY DRESSED FOR HALLOWEEN
~ by Sandra Liatsos ~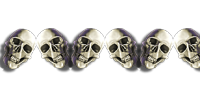 FOXYSDEN HAS BEEN A LEAGUE FOR 7 YEARS THIS OCTOBER 23rd.
WE ARE GOING TO HAVE A CELEBRATION ON THE 23RD FOR ALL OF OUR FOXYS!
SPECIAL EVENTS WITH PRIZES AND SURPRISES...FUN FOR ALL! COME JOIN IN THE CELEBRATION OF OUR 7TH YEAR!!
MORE INFO TO COME SO KEEP WATCHING CHAT AND YOUR EMAILS!


"IF YOU ARE SUPERSTITIOUS....YOU'LL NEVER STEP ON CRACKS.
WHEN YOU SEE A LADDER YOU WILL NEVER WALK BENEATH IT.
AND IF YOU EVER SPILL SOME SALT YOU'LL THROW SOME 'CROSS YOUR BACK,
AND CARRY AROUND A RABBIT'S FOOT...IN CASE YOU NEED IT.
YOU'LL PICK UP ANY PIN THAT YOU FIND LAYING ON THE GROUND.
AND NEVER, NEVER, EVER THROW YOUR HAT UPON THE BED,
OR OPEN AN UMBRELLA WHEN YOU ARE IN THE HOUSE.
YOU'LL BITE YOUR TONGUE EACH TIME YOU SAY A THING YOU SHOULD'T HAVE SAID.
YOU'LL HOLD YOUR BREATH AND CROSS YOUR FINGERS WALKIN' BY A GRAVEYARD,
AND NUMBER THIRTEEN IS NEVER GONNA DO YOU ANY GOOD.
BLACK CATS WILL ALL LOOK VICIOUS....IF YOU ARE SUPERSTITIOUS.

BUT I AM NOT SUPERSTITIOUS!(knock on wood)."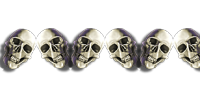 FOXYSDEN IS GOING TO HAVE OUR YEARLY MARATHON ON THE 17TH THROUGH THE 23RD OF THIS MONTH FROM NOON TO 10PM EACH DAY.!
OUR THEME WILL BE "AROUND THE WORLD". WE WILL BE VISITING MANY DIFFERENT PLACES THROUGHOUT THIS WEEK.
WE WILL HOP IN OUR BALLOON AND TRAVEL FROM COUNTRY TO COUNTRY!
AN AGENDA WILL GO OUT VERY SOON ON THE WEBSITE LETTING YOU KNOW WHERE EACH TOUR WILL BE HEADED. THIS WAY YOU CAN DRESS YOUR MINIS ACCORDINGLY.
THE ONE MINI THAT BEST REPRESENTS THE COUNTRY OF EACH TOUR WILL BE CHOSEN AND A SNAPSHOT TAKEN OF THAT MINI. AT THE END OF THE WORLD TOUR, WE WILL PLACE THE MINIS ON THE WEBSITE AND OPEN THE VOTING POLL FOR THE BEST MINIS OF THE BUNCH!

THERE WILL BE MORE ON THE FOXYS' MARATHON AS WE APPROACH THE 17TH. SO KEEP AN EYE ON CHAT AND YOUR EMAILS!

IF YOU HAVE ANY QUESTIONS, PLEASE CONTACT CRIS OR MYSELF AND WE WILL HELP YOU.


Mermaid (Ramification)
written by Jeff Opperman

Ibought a mermaid costume
Some how I lost the scales
Wore it Halloween night
And looked just like a whale

Thought I'd dress as Dracula
On my face a little blood
Tripped on a cape that's too long
And now my name is mud

White curly locks like Bo peep
A staff there in my hand
All the old men gave me Snicker
As down the street I ran

Dressed as Richard Simons
Right down to the shorts
All I got was fruit
And exercise of course

Dressed up like the king
And you thought Elvis dead
Of coarse I couldn't sing
Just shook my booty instead

Dressed up as a turkey
Last Thanksgiving day
Missed Halloween completely
What else can I say

So have a happy trick or treat
Use your imagination
But when it comes to costumes
Think...Ramification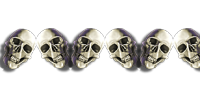 ANOTHER EXCITING THING WE WILL BE DOING IS DRESSING OUR MINIS IN HALLOWEEN CONSTUMES EVERY DAY (EXCEPT OF COURSE DURING THE MARATHON).
THIS WILL START ON OCTOBER 1ST AND GO THROUGH HALLOWEEN NIGHT!
WE WILL HAVE THE GHOULISH CONTEST AGAIN THIS YEAR...PREPARE AS MANY HALLOWEEN MINIS AS YOU LIKE, LET ME KNOW WHEN YOU HAVE SOME TO COLLECT AND I WILL COME GET FOR JOE.
EVERY TOUR THE HAs WILL BE AROUND TO CHECK MINIS...IF WE SEE ONES WE REALLY LIKE WE WILL TAKE SNAPSHOTS AND PUT IN A FILE. YOU WILL NEVER KNOW WE HAVE TAKEN YOUR PICTURE, OR WHERE YOU WERE WHEN WE GOT IT...WE ARE SNEAKY THAT WAY (hehehe). SO BE PREPARED AT ALL TIMES WITH YOUR BEST!

IF YOU HAVE ANY QUESTIONS, PLEASE CONTACT CRIS OR MYSELF AND WE WILL HELP YOU.


"LITTLE OLD MAN OF THE BARN"
A Scottish Halloween Poem...from Cris

WHEN THE PEAT WILL TURN GREY AND SHADOWS FALL DEEP
AND WEARY OLD CALLUM IS SNORING ASLEEP...
THE LITTLE OLD MAN OF THE BARN WITH THRESH WITH NO LIGHT
IN THE MOUTH OF THE NIGHT,
THE LITTLE OLD MAN OF THE BARN.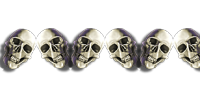 THERE IS A LOT MORE WE OFFER THROUGHOUT THE MONTH....

JIM (denverwingsfan19), "OUR HEAD HTD" AND "HAREM MASTER" IS ONE OF OUR HOSTS. HE HAS TEAM BOWLING WHICH WILL BE STARTING UP AGAIN VERY SHORTLY. HE HOLDS TOURS ON WEDNESDAY AND THURSDAY EVENINGS FROM 8PM - 10PM, ONE OF WHICH IS REGULAR BOWLING; A GOOD PRACTICE TOUR BETWEEN MONDAYS AND FRIDAYS FOR THE BOWLING TEAM.
JIM ALSO RUNS OUR TOC AND STAFF V MEMBER TOURS EACH MONTH. THANKS SO MUCH JAMES!

GILLIAN (gillian1157), OUR "CO-HTD" IS ANOTHER OF OUR HOSTS. SHE HOLDS TOURS ON MONDAYS AT 7PM AND 7:30PM. GILL ALSO HOLDS "PJ TOURS" ON THE FIRST SUNDAY OF EVERY MONTH. THESE ARE FUN TOURS WITH TRIVIA AND STORY TELLING! THANKS SILLY GILLY!!

CONNIE (zacksnonnie2) IS OUR "PRAYER ANGEL" HOSTS TOURS ON TUESDAY, SATURDAY AND SUNDAYS. SHE ALSO IS A BLESSING TO THE HAs. SHE IS ALWAYS OFFERING HER HELP AND WE TAKE HER UP ON IT! THANKS SO VERY MUCH CONNIE! YOU ARE MUCH APPRECIATED!

JEN (jenluvsbears) IS OUR "POST MISTRESS". SHE TAKES CARE OF GETTING INFORMATION FOR BIRTHDAYS AND WELCOMING NEW MEMBERS TO THE LEAGUE. THANKS JEN FOR HELPING FOXYSDEN.

CRIS (wolfscub) IS OUR LEADER OUR HEAD ADMINISTRATOR (HA)!! CRIS CAME ON BOARD WHEN THE LAST HA LEFT FOXYSDEN WITHOUT WARNING. CRIS PICKED UP THE PIECES AND HAS DONE A FANTASTIC JOB OF RESCUING THE LEAGUE! HE IS AN AWESOME CREATOR AND HAS COME UP WITH SOME REALLY NEAT THINGS FOR OUR LEAGUE! HE HAS A HEART AS BIG AS ALL OUTDOORS, AND HAS COMPASSION FOR HIS LEAGUE MEMBERS. CRIS ALSO DOES TOURS ON MONDAYS AND THURSDAYS FROM 4-6PM. HE IS A HUGE SUPPORTER OF HIS HOSTS AND HIS LEAGUE MEMBERS. OUR LEAGUE COULD NOT BE THE BEST OF THE BEST WITHOUT HIM!! CRIS IS THE CORE OF OUR FAMILY! WE ALL SO APPRECIATE YOU HUN! THANKS FOR YOUR TIME, YOUR EFFORTS, YOUR HELP AND YOUR SUPPORT!

I, KEY (keylalah), AM CO-HEAD ADMINISTRATOR (CO-HA). I AM CRIS'S RIGHT HAND AND SUPPORTER. I ALSO HOST TOURS, WRITE THE NEWSLETTER, SUPPORT THE HOSTS, AND WILL BE STARTING UP THE "KING AND QUEEN FOR A MONTH" TOURS IN OCTOBER. THEY WILL BE HELD EVERY 3RD SATURDAY OF THE MONTH; THE 13TH OF OCTOBER WILL BE THE FIRST ONE. MORE TO COME ON THIS EXCITING EVENT! SO BE WATCHING...
I ALSO HOST MYSTERY TOURS AND "KEY'S SWAP SHOP" TOURS THAT ARE LOTS OF FUN. BE SURE TO BE A PART OF THESE TOURS! LOTS OF PRIZES AND ADVENTURES!

WE CANNOT FORGET ONE VERY IMPORTANT MAN, JOE (wolfscub5). JOE IS CRIS'S YOUNGEST BROTHER. HE IS VERY, VERY TALENTED IN THE GRAPHICS AREA AND IS AN AWESOME PROFESSIONAL CHEF!! JOE DOES ALL OUR WEBSITE SECTIONS, MINIS, TOURNEY PAGES, AND A SPECIAL SECTION...OUR RECIPE BOOK, AMONG MANY OTHER THINGS HE IS SO GRACIOUSLY WILLING TO DO FOR OUR LEAUGE. JOE ALSO HOSTS ON FRIDAYS FROM 2-4P. THEY ARE VERY FATTENING TOURS!! WHAT DO I MEAN? COME JOIN HIS TOURS AND FIND OUT... YOU WONT BE DISAPPOINTED!
THANKS JOE FOR SHARING ALL YOUR AWESOME TALENTS WITH FOXYSDEN. WE WOULDN'T HAVE WHAT WE HAVE WITHOUT YOU! YOU ARE A BLESSING AND AN AWESOME YOUNG MAN!

A Halloween Good Night

Each night I tuck you into bed
I brush my hand across your head
and in each tiny little fist
I place a magic mommy kiss.

Full of love and hope so bright
To keep you safely through the night,
Mommy kisses in your hand
To guide you off to slumberland.

If you should dream of monsters mean
Or witches with faces masked in green,
Of snakes that squeeze you oh-so-tight
Or darkness with no sign of light..

When nightmares hold you stiff with fear
A part of mommy still is near.
Just open up your hand and blow
One mommy kiss and nightmares go.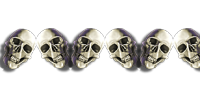 SOME VERY IMPORTANT INFORMATION I NEED TO GATHER FROM EACH AND EVERY ONE OF YOU...I NEED YOUR ADDRESS IF YOU WISH TO RECEIVE CARDS FOR HOLIDAYS AND BIRTHDAYS. THESE ADDRESSES WILL BE PUT ON THE WEBSITE WITH A PASSWORD THAT ONLY FOXYS WILL HAVE. WE ASK THAT YOU DO NOT TELL OUTSIDERS OF THIS PASSWORD. THIS IS ONLY FOR OUR FOXY FAMILY.
I ALSO NEED YOUR EMAIL ADDRESSES. WE USE THIS TO SEND IMPORTANT INFORMATION TO YOUR EMAILS CONCERNING THE LEAGUE. I ALSO NEED YOUR BIRTH DATE AND MONTH. I DO NOT NEED THE YEAR. WE HAVE BIRTHDAY PARTIES IN OUR TOURS AND WANT TO CELEBRATE YOUR BIRTHDAY! JOE IS, AGAIN THIS YEAR, GOING TO HAVE A "SECRET SANTA" GIFT EXCHANGE FOR OUR LEAGUE. IF YOU ARE INTERESTED IN PARTICIPATING, PLEASE LET ME KNOW.
PLEASE SEND ALL THIS INFORMATION TO OUR LEAGUE EMAIL ADDRESS...
WOLFCUB-KEY@FOXYSDEN.NET
THE DEADLINE FOR THIS INFORMATION IS OCTOBER 16TH AT MIDNIGHT.
ANY QUESTIONS PLEASE CONTACT CRIS OR MYSELF AND WE WILL HELP YOU.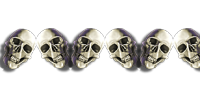 I AM GETTING READY TO UPDATE THE SLIDE SHOW. PLEASE SEND IN PICTURES OF YOU, YOUR FAMILY, PETS, GARDENS, HALLOWEEN PICS, THANKSGIVING, CHRISTMAS, NEW YEARS...HOLIDAYS ALL THROUGHOUT THE YEAR. YOU ARE NOT LIMITED AS TO HOW MANY YOU SEND. THE MORE THE MERRIER!! PLEASE EMAIL THEM TO OUR LEAGUE AND PUT IN EMAIL WHAT EACH PICTURE IS SO I CAN LABEL THEM IN THE SLIDESHOW. YOU CAN SEND ANY TIME, BUT FOR NOW, THE SOONER THE BETTER!
OUR NEW MEMBERS, ABBI (sb906), MEL (mel103077), SHARON (ppcrnmm13plyr), DARLINB AND TOAD22P...WELCOME TO FOXYSDEN AND PLEASE SEND IN PICTURES SO WE CAN ADD YOU TO OUR FOXYSDEN FAMILY.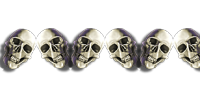 A SPOOKY MONTH, OCTOBER CAN BE!
FALLING LEAVES, HOWLING WINDS SO CHILLY!
DAYLIGHT IS GETTING SHORTER AND DARKNESS LINGERS,
PUMPKINS BEGIN SMILING, HARVEST TIME FOR THE WINTER
GOBLINS, GHOSTS AND WITCHES BEGIN TO APPEAR
TO SCARE ALL THOSE WHO TRY TO COME NEAR!

KEEP AN EYE OUT AND YOU JUST MIGHT SEE
THE HEADLESS HORSEMAN ON HIS MIGHTY STEED
OR MAYBE A WITCH AS SHE FLIES BY ON HER BROOM
MIGHT EVEN SEE THE GREAT PUMPKIN UNDER THE FULL MOON
CREEPY CRAWLIES AND MONSTERS OF ALL SORTS...
YOU WILL FIND THEM ALL ON HALLOWEEN....
ON YOUR FRONT PORCH!!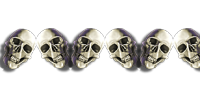 ON BEHALF OF CRIS AND KEY AND STAFF...WE WISH YOU A VERY SAFE AND ENJOYABLE OCTOBER!
MAY GOD BLESS YOU AND KEEP YOU IN HIS HANDS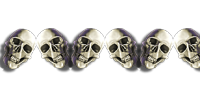 Creepy Background Music..mp3