MOTHER'S DAY TRIBUTE
by Keylalah


SUPER MOM!
written by Lynn Meade

My mom has superpowers...

My mom has the power to talk to the animals. She'd tell me:
"My little birdie told me that you were speeding."
"My birdie said that you were acting up in school."
That dumb bird always got me in trouble!

My mom has the power of invisibility. She would say:
"Behave yourself, always act like you would if I were in the room."
"You never know when I might be watching."

My mom has the power of supersonic hearing. She would tell me:
"I heard that!"
"Don't you dare talk to your sister like that."
How did she hear that? She wasn't even in the room-and I didn't see that dumb bird of hers anywhere in sight.

My mom has the power of eyes in the back of her head.
Her famous lines:
"Don't even think about it."
"I see you."
Only eyes in the back of her head could explain how she knew that I was me who broke her lamp.

My mom has the power to read minds. She would say:
"It looks like you had a bad day, want to talk about it?"
"I think you need some ice cream, let's just you and me go get some."

My mom has the power of having extra arms.
She can help glue my science fair project, make my sister cookies for her class, and iron my dad's shirt.
She has sewn a formal, cheered at the baseball game, and had dinner on by 6 o'clock. And she can do this ALL AT THE SAME TIME!

My mom has the power to heal:
She's mended many a broken heart with chocolate,
She put "pink stuff" on my chicken pox, on my poison ivy, and on my poison oak.
She held me when I cried all day because my cat died.
She gave me Band-Aids so I could heal my baby dolls.
I know that her kisses can make all things well.

My mom has the power of forgiveness:
She forgave me when I let the turtle climb her fancy new curtains.
She forgave me when I used her new perfume on all my baby dolls and stuffed animals.
She forgave me when I broke her blown glass figurine playing pillow football in the house.

My mom has superpowers.
She is an extraordinary woman with extraordinary love.
She has shared that love with me so that I, too, can be extraordinary.

The good news is now I'm a mom.
And wouldn't you know it...I can feel them sprouting, even as we speak...eyes on the back of my head.
Now, I just need to find me one of those birds!



I have asked all the Foxy members to send a picture of their mom and write about a Special time they shared together.
Please, sit back, relax, and enjoy the response from our Den families.

CLARA'S TRIBUTE TO MOM

When I was 21 and got married and moved from N C to Tennessee.I found this note in a bible my mom gave me for a wedding gift..
the note reads..

Persevere
Live simply
Love generously
Care deeply
Speak kindly
Take care of yourself for me!
Love, your mom





CHARLIE'S TRIBUTE TO MOM
This is a pic of my mom and I at my first wedding. Even though the marriage did not last, this was the first day in my life that my mom and I actually were close and became friends. My mom is the one that stood beside me when my marriage fell apart and she is the one that got me back on my feet. Just as she did for me I was able to do the same for her when it was her turn for heartache.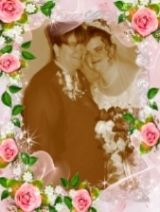 CONNIE'S TRIBUTE TO MOM

I REMEMBER

I REMEMBER GROWING UP AS A CHILD ALL THOSE CUTS AND SCRAPES, MY MOTHER WAS ALWAYS THERE TO KISS AWAY THE PAIN AND SHE WOULD SAY "WHEN IT HURTS JUST SQUEEZE MY HAND AND I'LL TELL YOU THAT I LOVE YOU" THERE WERE SO MANY TIMES I WOULD PRETEND TO BE HURT JUST TO HEAR MY MOM SAY "CONNIE I LOVE YOU"

ONE NIGHT WHEN I WAS IN MY 30'S FOLLOWING A VISIT FROM MY SISTERS THE PHONE RANG AND I HEARD MY BROTHER SAY WITH CONFUSION AND PANIC IN HIS VOICE, CONNIE SOMETHING IS WRONG WITH MOM AND SHE'S CALLING FOR YOU.

THE FIFTEEN MINUTE DRIVE TO THE HOSPITAL FILLED ME WITH DREAD, WHEN I ARRIVED AND FOUND MY BROTHERS AND SISTERS PACING THE WAITING ROOM.

I WENT TO SEE MY MOTHER AND HER EYES WERE CLOSED AND HER HANDS WERE RESTING UPON HER CHEST. I CALLED TO HER TRYING TO KEEP MY VOICE CALM. I SAID "MOM I'M HERE WITH YOU" AND SHE SAID CONNIE IS THAT YOU?

YES MOM IT'S ME SHE LOOKED UP AT ME AND SAID IT'S SO HARD FOR ME TO BREATHE AM I GOING TO DIE? TEARS WELLED UP IN MY EYES AS I LOOKED AT MY MOTHER LYING THERE SO BREATHLESS.

THOUGHTS RACED THROUGH MY MIND AS I TRIED TO THINK WHAT MY MOTHER WOULD SAY TO ME IF IT WERE I LYING IN THAT BED. JUST THEN THE WORDS THAT SHE SAID SO MANY TIMES TO ME WERE GIVEN BACK TO HER FOR I TOOK HER HAND IN MINE AND THIS IS WHAT I SAID....

DON'T BE AFRAID "JUST SQUEEZE MY HAND AND I'LL TELL YOU THAT I LOVE YOU" MANY HAND SQUEEZES AND MANY " I LOVE YOU'S " PASSED BETWEEN MY MOTHER AND ME DURING THE NEXT YEAR UNTIL HER FIGHT WITH EMPHASEMA HAD FINALLY ENDED.

WE NEVER KNOW WHEN OUR MOMENT OF TRUTH WILL COME BUT I DO KNOW THAT WHEN MINE COMES WHOM EVER I AM WITH I WILL OFFER MY MOTHERS WORDS OF LOVE EVERY TIME. FOR WHEN IT HURTS JUST SQUEEZE MY HAND AND I'LL TELL YOU THAT I LOVE YOU!!!!!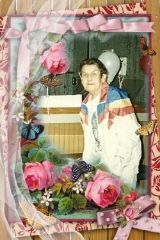 CRISTEAN'S TRIBUTE TO MAMA

AH GRAW MUH KREE
(LOVE OF MY HEART)

THESE WORDS I SPOKE WHEN EVER YOU WERE IN MY MIND. I REMEMBER WHEN SHE FIRST SPOKE THEM TO ME.

I REMEMBER ALL THE SMILES AND LAUGHSWE SHARED IN GOOD TIMES AND BAD. I SO WISH I COULD SAY THEM TO YOU AGAIN.
I SEE YOU ALWAYS IN MY MINDS EYE SAYING AH GRAW MUH KREE WHAT AM I TO DO WITH YOU.

I REMEMBER THE SHEARED CAT AND SMILE AT WHAT YOU SAID TO ME. MY MEMORIES ARE LONG AND HAPPY ONES. MY HOW I WISH I COULD LIVE THEM OVER AGAIN AND DO THINGS A LITTLE DIFFERENT.

I REMEMBER THE FIRST MINI FOAL AND HOW YOU LOVINGLY HELPED IT TO NURSE FOR THE FIRST TIME. THESE MEMORIES WILL LIVE ON.

I REMEMBER THE TIME YOU CAME TO MY FIRST OPERA ARIA YOU WERE SO PROUD OF ME AND I WAS SO NERVOUS AND YOU TOLD ME SING AS IF I WAS SINGING TO GOD AND IT WOULD BE FINE.

MEMORIES OF YOU ARE TO MANY ITS HARD TO LIST SPECIAL ONES WILL ALWAYS LINGER EVEN THROUGH YOUR GONE.

THE LIGHT SHINING OUT AS YOU SHOWED OFF THE RUNT. THE LOVE IN YOUR EYES AS YOU CARED FOR DA. THE WAY YOU CRINKLED YOUR NOSE WHEN I BROUGHT HOME DIRTY LAUNDRY AFTER BEING AWAY.

YOUR FACE THE FIRST TIME I TOOK YOU DIVING, IN ANTARCTICA. THE FIRST TIME YOU LET ME SOLO YOUR PLANE AND TOLD ME IF I CRASHED IT I BOUGHT IT.

THESE MEMORIES LINGER, I MISSED YOUR PASSING BUT IN MY HEART I KNOW YOU WERE WITH ME, I REGRET THAT I NEVER SAID GOOD-BY BUT THAT WAS NEVER MY WAY. I KISS YOU THE NIGHT BEFORE AND BE GONE BEFORE YOU WOKE. THIS TIME I KISSED YOU AND YOU WERE GONE BEFORE I WOKE.

THESE ARE SWEET MEMORIES AND I WILL ALWAYS CHERISH THEM. I WROTE YOUR EPITATH AND I KNOW YOU WOULD APPROVE.

DA GAVE ME A HISTORY AND LEGACY BUT YOU AH GRAW MUH KREE GAVE ME MY HEART AND GENEROSITY.

YOU WILL ALWAYS BE
MY WOLF IN THE MIST
CRISTEAN



JOSEPH'S TRIBUTE TO MAMA

MY SPECIAL MOMENT

I HAVE SO MANY BUT I GUESS THE BEST IS WHEN SHE AND I WORKED IN THE GARDEN BUT THOSE TIMES ALONE WITH HER HAS WE ACCOMPLISHED SO MUCH IN A SHORT TIME. MADE ME SEE WHAT A REMARKABLE WOMEN SHE WAS, SHE TOLD ME THINGS ABOUT HER LIFE AND OUR FAMILY HISTORY THE GOOD AND THE SAD TIMES.

HOW SHE MET ME DA, THE BIRTH OF JOHN AND AND MICHAEL OF LOSING THEIR DA TO A SENSELESS WAR. THE BIRTH OF CRISTEAN MY DA'S FIRST BORN AND THE TIME SHE TOLD HIM SHE WAS HAVING ME. HOW HE WANTED A GIRL SO BAD, TO BALANCE THINGS OUT A LITTLE.

MOST OF ALL I REMEMBER THE SMALL THINGS LIKE THE SOUND OF HER LAUGHTER AT LITTLE THINGS LIKE A KITTEN SWATTING AT A FLY. HOW SHE SMILED WHEN FLOWERS CAME FOR NO REASON AT ALL. OF DA AND HER DANCING TO NO MUSIC BUT THE LOVE IN THEIR HEARTS WHILE FIXING DINNER. HER LOVE FOR THE WOLVES WHEN THEY CAME A RUNNING EVEN IF SHE WAS DRESSED FOR WORK. I STILL SEE HER DOWN ON THE FLOOR COOING TO A NEW BORN PUP WHILE ITS MOM CLEANED IT GETTING UP AT ALL HOURS TO FEED THE ONES THAT WERE HUNGRY.

CRYING OVER A WOLF WHO PASSED ON IN THE NIGHT KNOWING IT WAS OLD AND AT PEACE.

SEEING HER FACE LIGHT UP WHEN ANYONE OF US SHOWED UP UNANNOUNCED FOR NO REASON AT ALL JUST TO SAY "I LOVE YOU "

THESE ARE MY FAVORITE MEMORIES, LOCKED AWAY IN MY HEART TO BE BROUGHT OUT WHEN EVER I MISS HER.

HAPPY MOTHERS DAY MOM
JOE





GILLIAN'S TRIBUTE TO MOM

MY SPECIAL TIME WITH MOM
Mom and I have had some very precious times together but there's one that tops the list.

I was almost 16 and mom was working at a hotel coordinating "Student Exchange Trips" between the islands. She'd come to our school and my class was given permission to go to Puerto Rico for the weekend. I was really excited as I'd be celebrating my birthday on the trip. For whatever reason my school pulled out and I was devastated. We were never told why. Mom saw how disappointed I was and she talked to my Headmistress and surprised me at the last minute by telling me I was going with her to Puerto Rico. I'm sure the neighbor's heard me screaming.

Three schools were going, along with chaperones. We arrived at the hotel the night before Thanksgiving, and because mom was the leader of the trip we were given the Penthouse suite free of charge for the weekend. I was hopping all over the place once we got to our room. It was like a huge apartment. I gave mom the King bed and took the Queen pull out sofa. We had a beautiful view of the city.

Next day, unknown to us, because it was Thanksgiving, the college we were supposed to visit was closed. We all had a free day and mom and I walked down the street window shopping.

That night at dinner I was surprised with a birthday cake that mom had ordered for me.

The next day (Fri) we went to the fort in Old San Juan and I got to meet some of the other students on the trip. One of the girls and I really hit it off and she was having a hard time with her room mate so mom and I let her come stay with us.

Once we got back from the fort we had the night off and some of the girls decided to walk down the street with us. We'd heard about Walgreens and Dunkin Donuts and decided to head there. They had a special on and we ended up with boxes of donuts. I also had my first Whopper lol. Mom warned my new friend and I about eating too much, but when we got back we settled down in front of the TV watching movies and eating donuts all night. She was surprised we didn't make ourselves sick. Mom, my friend and I went down to the lobby for sodas to wash down the donuts and got stuck in the elevator on the way back up. I was not amused. We were in there for about 10 mins before they got us out.
Next morning (Sat) we had breakfast in our room and got ready to go shopping. Mom wasn't my mom that day. She was like our big sister, and we had a blast. We got stuck in the elevator again, this time on the way up from shopping. I vowed never to get back in that elevator after that. All the other kids thought it was hilarious that it kept happening to us.

We were due to leave next day, Sunday evening and a trip to the Rain Forest had been planned on the way to the airport. We stopped at a beautiful waterfall and mom said we could get out if we wanted to. There was a group of guys splashing around in the water and I thought they looked familiar. I was sure they were from the group "Menudo" and was kinda hesitant about going to ask. Mom encouraged me to go. She said all they could say was "no". No one else wanted to go cause it was seriously hot that day so off I went with my camera. Turned out that it was the guys from the group and I got to take pictures and had my pic taken with them. Somewhere in all my old photos is a pic of Ricky Martin lol. Got their autographs too. All the girls were mad that they didn't go with me. Mom just smiled.

We got home and talked our heads off about the trip and mom and I had a very tender moment when I thanked her for everything she'd done to make sure I had a special birthday and she gave me a great big hug and said I was welcome. We still talk about that trip to this day.





JIM'S TRIBUTE TO MOM

MY HOCKEY MOM AND GAME DAY
I never remember my Mom liking any sports when I was a kid but believe it or not, we watch nearly every Detroit Redwings hockey game together.

It started when the Colorado Avalanche became fierce rivals of the Wings back in the 90's. Mom had access to all the Redwing goodies and sent them for Christmas every year.

Somewhere along the line she started watching the games too and we have a blast cheering on our beloved Wings and hissing at the competition. She has become quite the fan and I look forward to every game together here or when I'm lucky enough, back home in person.

She is my Hockey Mom and game day is my special occasion both to remember and look forward to.

Happy Mothers day Mom!
I hope they win tonight so there is a game Sunday and we can spend Mothers day together. :)





JUDY'S TRIBUTE TO MOM

I can't say that I have one special memory of my mother, but one that I share with the whole family, when "Nana" is mentioned everyone automatically goes to the Sunday Dinners (as well as Christmas, Easter and Thanksgiving).


They started when the 5 of us were kids, as we got older we got to help get dinner ready - this was a special treat and came with a lot of good memories. As we got older and started having our own children the dinner just expanded, extra tables were set up - although some of the older grandchildren did not like having to sit at the children's tables.

My mom was a great cook, and baker. Tried to teach me to make pies - just couldn't do it, still can't. I miss her lemon meranque pies most of all, no one else can come close to it.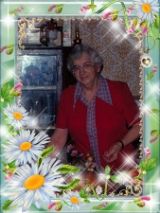 My Mom had one sister my Aunt Mable (and 9 brothers). My Aunt Mable was like a second mother, she suffered from polio when she was 18 months old (1901) and never walked, when my grandfather passed when I was 12 she came to live with us. My mother took care of her as well as my grandmother (on my father's side) who also lived with us. She was the one who taught me to crochet and gave me my love of arts and crafts.

Aunt Mable lived for the grandchildren who my sisters and brothers and I brought into this world. When I moved to CA she paid for my mother to go with me to help me get settled in. When she was 75, and finally in a wheelchair instead of on crutches, she and my mother flew to CA to spend time with us, while there we took her to the Petaluma Fair, the first one she ever got to go too.




I had the joy of being raised by two wonderful and selfless women.

Happy Mother's Day! Judy


KAREN'S TRIBUTE TO MOM
As far as memories there are many but I guess what I want to say is mom was truly my best friend as well as my mom. We used to go to lunch at least once a week and I would call her every morning before she went to work. She was my rock and I miss her every single day! I would also like to say a BIG Thank You to my unofficial adoptive Mom, Sandy Barnaby (see Jim's picture of mom above). I felt so orphaned and she jumped right in and has been my friend and confidant. I am VERY BLESSED with all the wonderful women in my life ( and yes you gentlemen too!)





MAIDEN'S TRIBUTE TO MOM

My mom related this story to me when I graduated high school. I was originally supposed to be born in February of 1973 so it came to be a little of a shock when I decided to make my entrance into the world on December 11th 1972. My parents hadn't picked out my name yet and so they needed to find a name for me.(Didn't want to be known as baby girl jones all my life)



The 2nd picture is of the stocking I travelled home in on Christmas Eve. What a Christmas present to my parents and brother




REBA'S TRIBUTE TO MOM

Vickie and I snuck downstairs, threw open the door, woke mama up yelled "Cheese" and this is what we got!




We were back upstairs before she realized what we had done, giggling the whole way!

I could not get out of bed the next day but it was worth it!



SANDY'S TRIBUTE TO MOM

MY MOM WAS A VERY SPECIAL LADY. SHE WAS BORN WITH BRONICHAL ASTHMA, AND SUFFERED AS LONG AS I CAN REMEMBER. WE WERE VERY AFRAID SHE WOULD NOT BE ABLE TO ATTEND OUR WEDDING, BUT SHE MADE HERSELF GET DRESSED AND DAD BOUGHT HER. THIS MEANT SO MUCH TO ME, AND I WILL NEVER FORGET IT.

SHE WAS THE BEST, EVEN THOUGH SHE WAS ILL, AND WE LOVED HER VERY MUCH.

SHE IS THE BRIGHTEST FLOWER IN GOD'S FLOWER GARDEN.



DAWN'S PICTURE OF HER AND MOM


I hope you have enjoyed these tributes as much as I have!

As I read these Special Moments with Mama, there was laughter, moments of "awwwwww", and moments of tears.



M-O-T-H-E-R
"M" is for the million things she gave me,
"O" means only that she's growing old,
"T" is for the tears she shed to save me,
"H" is for her heart of purest gold;
"E" is for her eyes, with love-light shining,
"R" means right, and right she'll always be,
Put them all together, they spell "MOTHER"
A word that means the world to me.

Written by Howard Johnson


Cristean, Joseph and Keylalah would like to say "HAPPY MOTHER'S DAY" to each and every monther of the Den.
May your day be a Blessed one, a day to rest, a day full of love, and happy memories of days gone by.

God Bless you all!