FOXYSDEN MAY NEWSLETTER
written by Keylalah


It's May...
by Rebecca Rowland

Yards are green, trees have leaves, and grass needs a mowing;
Baseball's schedule is a mess and parents start their groaning!

Mother's Day, oh my gosh, thank goodness for my calendar!
Let's see, there's flowers, maybe a dress, I know, I'll take her to dinner!

Prom dresses and prom tuxes are the issue at this time!
Corsages and a matching rose, the cost does nothing but climb!

Graduation is coming soon, have lots and lots to prepare for;
The invitations, cap and gown, the after party, please don't pour!

Memorial Day...dad and kids are off and mom has a picnic to prepare,
A day to remember the fallen with a wreath, a flag and a prayer.



April was the month of Spring! We had a front page full of flowers, birds and butterflies! We started, for the first time, a Foxysden Monthly Mini Contest. The theme for the month was spring. Members could dress their minis in two different outfits matching the theme for the front page and submit them to be seen on the website. At the end of the deadline, members could vote for the top 10 they liked the most!
The winners and the prizes they won for the Theme Contest were:
1st place - Clara - Badge Album
Clara's winning Mini will be placed under the Staff pictures for the month of May
CONGRATS CLARA! VERY NICE!
2nd place - Charlie - Badge
3rd place - Dawn - Premium Item from the Mall
4th place - Key - Premium Item
5th place - Connie - Gem Item
6th place - Gill - Mall Item
7th place - Judy - Mall Item
8th place - Jim - Mall Item
9th place - Key - Mall Item
10th place - Sandy - Mall Item
Thanks to all who participated! The minis were GREAT!
This month's Theme Mini Contest theme is
"Windows of the PAST".
Submit your minis no later than the 20th, judging will begin the 21st through the 25th at midnight.
To make it easier for the ones who do not know how to work PAINT to send their minis, dress your minis, label them "May theme contest" and let me know you have finished them. I will come by and cut them for Joe. If it does not say May Theme Contest in the caption, I will not be cutting any. If you submit on your own, you MUST do your mini through PAINT in order for it to be correct for publishing. If you don't, Joe has extra work he has to do to prepare them for publishing. They must be CLIPPED and CUT both to make it work.
GOOD LUCK TO YOU ALL!


The May Miss Mini Queen was Clara!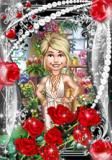 She won a Gem Card and a Badge Album of choice!
Her picture goes in the "Queens" section of the Website with the other queens who have won in 2013. At the end of the year, the queens will play a tour for the Queen of the Year!
Miss Mini Pageants are played every Saturday evening from 8-10p. Come join us, dress your mini according to the theme for the week, and YOU may be the next Miss Mini Queen!



Our Birthdays for the month are
Taureanprincess3 on the 17th
Tonyredglenn on the 31st
Tony's party will be on the 28th at 10p in Gin. His theme is "Clowns"
Time to paarrrtttyyy!

We have a few Foxyden Anniversaries coming up as well.
Gill's 1st anniversary as HTD with the Den is May 5th
Connie's 2nd anniversary with Foxysden is May 7th
Bstinger's 1st anniversary is May 25th
Ihvissues' 2nd anniversary is May 31st.
So glad to have you in the Den and hope to see you for many more anniversaries!


Cris, Joe and I would like to congratulate a few of our members for their support of Foxysden!

Our first member is our Prayer Angel, Connie. She attends most all the tours and takes prayer requests for the members. The HAs would like to present you with the Member's Award for April! Congrats!

The HAs would like to present the Staff Award to a person who is so good at his job that all the ladies want to be in his harem!! Congrats Jim for a job well done. You are much appreciated!

The Den's Wolflady's Sportsman Award goes to someone we feel goes over and above in their help, their actions, their spirit and represents what Foxysden is all about. This person is always bubbly, always kind, always fun to be with and is very supportive of others! We wish to congratulate Monkey on winning this honor! Thanks sweetie!


We have some Foxys who need our prayers and some cheering up! If you need addresses, please see Gill

Joan has had shoulder surgery and is recovering. A card would sure make her day!

Nancy is going to be going through knee surgery on the 22nd of this month. Please keep her in your prayers!

Charlie's mom, Barbara and mama's friend Raven are in need of prayer. Raven has cancer and will soon be in the arms of the Father. Barbara is taking this hard and needs prayers of comfort.

Please continue to pray for Cris as he has a very long recovery ahead of him. He gets stronger and stronger every day by the Grace of God (and his very strong will and scottish determination), and the many, many prayers of his friends and family.

Maiden needs our prayers as well. She is going through doctor changes, medication changes and needs our support. A card would be great to help her spirits!

Dave (warforhim5) is in need of prayer. He has a possible by-pass surgery coming up in the very near future.

I am sure there are others. Let's keep our Foxys in our thoughts and in our prayers.


Our Harem Master is adding another day to his schedule through the week! Jim does tours on Wednesday and Thursday nights from 8-10p and does our special tours; TOC and Staff v Member. He will now do Monday nights from 8-10p also!
Thank you so much Jim, for your help and dedication to Foxysden! You are so appreciated!

By the way, speaking of the Staff v Member Tour - our winner was Dawn! She won for the members! Congrats members!!
The one who played for the staff and LOST was Gill! She was punished for losing! She had to wear a barrel and an ugly hair due for a week! Well, instead of trying to describe it,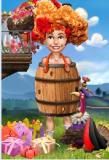 Gillian is now a working lady! She will not be around as much, but you will see her in the evenings at 7p and during her PJ tours on Sunday!
Thank you gill for your help in the Den and your sense of humor! What would we do without you! You, too, are much appreciated!

Our loyal and beloved HA will be doing a few tours here and there now. He is on the road to a long recovery, but is always here for his Foxys!!
Welcome back Cris! We love and appreciate all you do for us! Take it slow and get better! Our prayers are always for your speedy recovery!

Our ever-so-faithful Joe is always doing a tremendous job on the Website, hosting our Foxy tours, and is the backbone of all the creations Foxysden has to offer.
Thank you Joe for making Foxysden so very awesome for its members!
If you have never taken the time to go to Foxys Website, you truly don't know what you are missing! There is soooo much there for us all! We are a very privileged League to have such talent and all the different benefits that the Den has to offer!
If you go below the slideshow on the front page, you will see Foxys Website. Click on it and it will take you to a whole different world of Foxysden!


HURRY, HURRY! READ ALL ABOUT IT! A NEW LINK HAS BEEN ADDED TO THE FOXY'S WEBSITE!!
"FOXYS EMPORIUM"!!

Lots of fun items...all profit goes to the Den revenue to buy premium memberships, gift pogo memberships in special tours, gift gold to members who do not have it, you never know when one of the items might be a gift for winning a tour! All benefits Foxysden and costs us nothing but the upkeep of the site! This is a site from Cases for the Leagues to use for profit to help support them.

HURRY, HURRY! READ ALL ABOUT IT! A NEW LINK HAS BEEN ADDED TO THE FOXY'S WEBSITE!!
"FOXYS EMPORIUM"!!


Your HA has written a wonderful "Thank You" to Foxysden. It is on the website under "Thank You". You don't want to miss it!

Cris, Joe and I would like to thank you all for making this League the Best of the Best in the Land!
It takes all of us doing our part to make Foxysden such a success!

God Bless You and have a very safe, relaxing and enjoyable May.