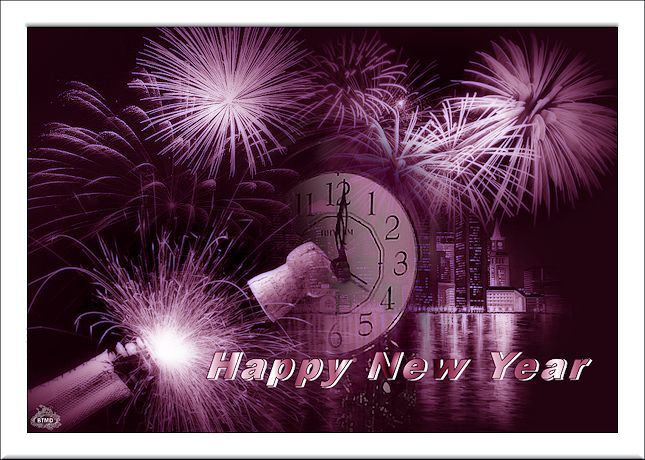 HAPPY NEW YEAR MY DEAR FOXYS!

AS I PONDERED THIS SAYING, "HAPPY" NEW YEAR, I WONDERED HOW MANY OF US REALLY WERE LOOKING FORWARD TO A "HAPPY" 2014 AND WISHED THAT HAPPINESS TO ALL WE SAID THOSE WORDS TO.

A "NEW YEAR" MEANS A NEW BEGINNING! WHAT IS PAST IS PAST...NOTHING CAN BE DONE TO CHANGE ONE THING...NOT ONE.

THIS FIRST DAY OF THE NEW YEAR, 2014, IS NOT ONLY A NEW YEAR, BUT THE FIRST DAY OF THE REST OF YOUR LIFE!

THIS YEAR, 2014, IS A YEAR OF RESTORATION! RESTORATION MEANS TO RESTORE, BRING BACK, MAKE NEW SOMETHING THAT HAS LOST ITS ZEAL, ITS LIFE, ITS BEAUTY. YOU AND ONLY YOU CAN CHANGE WHO AND WHAT YOU ARE FOR THE BETTERMENT OF YOU, YOUR FAMILY, FRIENDS, RELATIONSHIPS, AND YOUR FOXYSDEN FAMILY.

2013 WAS A ROUGH YEAR FOR MOST OF OUR DEN FAMILY. WE HAVE HAD MUCH SICKNESS, MUCH HEARTACHE, FINANCIAL BURDENS, AND LOSS OF LOVED ONES.

BUT 2014 WILL BE A BETTER YEAR! IT IS UP TO EACH AND EVERY ONE OF US TO "CLEAN OUR HOUSE" (MIND, HEART, SOUL).

IF YOU HAVE BUILT UP WALLS IN YOUR HEART, START TEARING THEM DOWN, ONE BRICK AT A TIME! NO MATTER WHAT THAT BRICK REPRESENTS, GIVE IT TO GOD, TAKE YOUR HANDS FROM IT AND ALLOW GOD TO DESTROY IT.

ALLOW YOURSELF TO BE HAPPY, ALLOW YOUR SOUL TO BE JOYOUS! ALLOW THE WORDS OF YOUR MOUTH TO SPEAK POSITIVE...THROW THE NEGATIVE BRICK OUT! HAND THAT BRICK OF NEGATIVITY TO GOD AND DO NOT REACH OUT TO TAKE IT BACK!

DO YOU REALIZE THAT WHAT COMES OUT OF YOUR MOUTH IS WHAT IS IN YOUR HEART? DOES GOD LIVE IN YOUR HEART? IS IT GOD'S COMPASSION, LOVE, AND CARING THAT YOU ARE SPEAKING? WORDS THAT UPLIFT AND BRING A PEACEFUL TONE?

2014 IS A TIME TO TAKE OUR MINDS OFF OURSELVES AND LOOK TO MAKING OTHERS HAPPY, FEEL LOVED, FEEL WANTED...MAKE IT YOUR GOAL TO SMILE, TO UPLIFT OTHERS, TO MAKE SOMEONE ELSE'S DAY SHINE!

IN DOING THIS, GOD, IN RETURN BLESSES OUR DAY WITH SO MUCH MORE!

YOU HAVE A CHOICE TO MAKE EACH AND EVERY DAY! YOU CAN START YOUR DAY WITH PRAISE AND THANKSGIVING, WITH JOY IN YOUR HEART, WITH LOVE IN YOUR HEART AND A DETERMINED MIND TO BLESS OTHERS, GIVING GOD THE BRICK OF ANGER, FRUSTRATION, NEGATIVE THINKING, AND THE "POOR ME" ATTITUDE, ALLOWING YOUR HEART TO REALIZE THAT LITTLE HOLE IN THAT BRICK WALL WHERE A FEW BRICKS HAVE BEEN DISCARDED, AND FEEL THE REFRESHING AIR OF COMPASSION, OF LOVE, OF A VERY GOOD AND BLESSED DAY!

OR

YOU CAN KEEP THOSE HARD, ROUGH BRICKS IN YOUR HEART AND THE WALL TOO HIGH TO CLIMB, MAKING YOUR DAY MISERABLE AND REFLECTING YOUR NEGATIVITY TO ALL YOU COME IN CONTACT WITH.

GOD GAVE US A WILL...WHAT IS YOUR CHOICE FOR THE 365 DAYS OF 2014?

I KNOW WHAT MY CHOICE IS...TO MAKE 2014 THE BEST YEAR YET, BRINGING JOY, PEACE, HAPPINESS, AN UNDERSTANDING HEART, AND LOVE IN ABUNDANCE TO ALL I COME IN CONTACT WITH...PERSONALLY...ON THE PHONE...ONLINE...AND ALL WHO COME TO MIND...A PRAYER OF GOD'S RESTORATION FOR THEIR HEARTS!

2014 - THE YEAR OF RESTORATION!

HAPPY NEW YEAR MY PRECIOUS FOXYS!
GOD BLESS YOU ABUNDANTLY!
I LOVE EACH AND EVERY ONE OF YOU!

KEYLALAH




THERE HAVE BEEN A FEW CHANGES WE WANT TO MAKE THE DEN AWARE OF.

OUR BOWLING TEAMS WILL START FOR JANUARY ON THE 3RD AT 9:00P. IF YOU WISH TO BE PART OF THE BOWLING TEAMS YOU MUST LET CRIS KNOW BY THE 2ND SO HE CAN SET UP PARTNERS.

NOW IS A VERY GOOD TIME TO GO TO THE GENERAL RULES IN THE WEBSITE AND READ THE RULES...THERE HAVE BEEN SOME CHANGES...THERE ARE RULES THAT HAVE BEEN THERE FOR A LONG TIME. THE HOSTS HAVE BEEN SOFT ON SOME OF THESE RULES. THEY HAVE BEEN THERE LONG ENOUGH FOR ALL TO HAVE READ THEM NUMEROUS TIMES... THESE RULES ARE GOING TO BE ENFORCED. SO PLEASE, TAKE THE TIME AND READ THEM ALL SO YOU ARE AWARE AND CAN HELP MAKE RUNNING THE TOURS A SMOOTHER TRANSACTION. THANKS!

GILLIAN'S PJ TOURS WILL CONTINUE EVERY SUNDAY EVENING THIS YEAR. SHE IS GOING TO MAKE THE LAST SUNDAY OF EVERY MONTH A SPECIAL SUNDAY WITH THE FIRST TOUR BEING A TOUR OF TRIVIA AND THE LAST TOUR OF THE EVENING TO BE THE CAMPFIRE STORY TELLING!!!

KEY'S MISS MINI PAGEANT WILL CONTINUE AS WELL. MUCH IS REQUIRED TO RECEIVE THE GIFTS THAT ARE SPECIAL FOR THE QUEEN AND HER COURT. READ THE RULES AND BE PREPARED TO HAVE A ROYAL TIME EVERY SATURDAY EVENING!

THE POKER CHAMPIONSHIP WILL CONTINUE WITH CRISTEAN, AS WILL THE TOC'S AND STAFF V MEMBER TOURS ONCE A MONTH, HOSTED BY THE HAREM MASTER!

WE WILL CONTINUE THE STREAKER CONTEST, THE MONTHLY THEME CONTEST AND WILL CONTINUE TO ALLOW THE FOXYS TO VOTE FOR THE MEMBER OF THE MONTH, THE STAFF OF THE MONTH, AND WOLFLADY'S SPORTSMAN AWARD.

PLEASE REMEMBER WHEN VOTING, AS THE STAFF DID WHEN THEY WERE VOTING...

THE MEMBER OF THE MONTH IS NOT YOUR BEST BUDDY...IT IS THE PERSON YOU FEEL HAS GIVIN OF THEMSELVES, BEEN PLEASANT, HELPFUL, A GOOD ATTITUDE, AND...IF YOU VOTE PER DAY, BE SURE THAT PERSON WAS IN TOURS WITH YOU AND YOU SAW THESE KINDS OF ATTRIBUTES FROM THEM. ONES WELL DESERVING OF THIS VOTE.

THE STAFF OF THE MONTH IS THE ONE WHO HAS BEEN THERE, HAS BEEN KIND, PERSONABLE, ENJOYABLE, HAS ANSWERED YOUR QUESTIONS, SAW TO YOUR NEEDS, HELPED WHERE NEEDED...NOT YOUR BEST BUDDY

WOLFLADY'S SPORTSMAN AWARD IS A VERY SPECIAL AWARD FOR SOMEONE WHO HAS GONE OVER AND ABOVE WHAT WAS EXPECTED OF THEM TO SERVE BOTH THE STAFF AND THE MEMBERS...ONE WHO IS ALWAYS AVAILABLE, ONE WHO ALL CAN DEPEND ON, WHO SHOWS GOOD SPORTMANSHIP IN ALL MANNERS....AGAIN, NOT YOUR BEST BUDDY.

THE HAs TOOK THIS JOB OF CHOOSING VERY SERIOUSLY AND CONSIDERED ALL ASPECTS WHEN CHOOSING.

FOR THE MONTH OF DECEMBER THE DEN VOTES WERE:

STAFF OF THE MONTH - CRISTEAN
MEMBER OF THE MONTH - GILLIAN
SPORTSMAN AWARD OF THE MONTH - MRS B

CONGRATS WINNERS!




WE HAVE LOTS OF WINNERS TO ANNOUNCE FOR DECEMBER AND FOR THE END OF 2013!

THE QUEEN FOR DECEMBER WAS NICOLE!!
CONGRATS GAL!

HER RUNNERS UP WERE

1ST RUNNER UP - CLARA!
2ND RUNNER UP - CONNIE!
CONGRATS LADIES!

OUR "QUEEN FOR 2013" WILL BE ANNOUNCED SOMETIME TODAY OR TOMORROW! GOOD LUCK QUEENS!! THE QUEEN WAS CHOSEN BY THE DEN MEMBERS.


OUR POKER CHAMPION FOR DECEMBER WAS PISTOL PACKIN' MAMA!

CONGRATS CLARA!


OUR STREAKER FOR THE MONTH OF DECEMBER WAS NICOLE!

CONGRATS HUN!

OUR HIGH STREAKER FOR THE YEAR WAS DAWN WITH 25!

CONGRATS SWEETIE!! NOW PUT YOUR CLOTHES BACK ON!! (hehehe)


OUR DECEMBER MINI CONTEST WAS VOTED ON BY THE MEMBERS OF THE DEN...
OUR WINNER WAS MS CAROL!!!

CONGRATS CAROL - YOUR PICTURE IS ON THE JANUARY FRONT PAGE BELOW THE STAFF MEMBERS!


OUR CHRISTMAS TREE WINNER WAS, AGAIN, VOTED ON BY THE DEN...

CONGRATS CONNIE! A BEAUTIFUL TREE HUN


OUR TOC WINNER FOR DECEMBER WAS...

SUE - CONGRATS HUN!!


OUR WINNER FOR THE STAFF V MEMBER TOUR...WINNING FOR THE MEMBERS WAS...

CONGRATS MICHELE!




CRISTEAN, KEYLALAH AND JOE WISH YOU ALL A SAFE, PROSPEROUS AND BLESSED NEW YEAR!

GOD BLESS YOU EVERY ONE!

cris bagpipes auld lang syne.mp3